We've known Dr Russell Seymour, the Founder and Principal Consultant at Seymour Associates for years now. He is not only internationally recognised and considered to be a pioneer in the field of sustainability in sport, but was also was the first (and longest serving) sustainability manager at a major sports venue in the UK. Pioneering in what is becoming an increasingly critical field.
Russell had recently started up his own sustainability consultancy, Seymour Associates, and required a clean, simple brand and associated web presence to help sell the vision. Excited to do anything we could to support better sustainability in sport and beyond, we jumped at the chance. 
Looking at the name Seymour Associates, we immediately wondered if one of the newly released and more specific Top Level Domains (TLDs) would be appropriate. We weren't 100% sure upfront, but when it became apparent that .associates was a valid domain extension, it seemed immediately obvious that the consultancy should adopt it's namesake domain and serve web, email and other digital services off the domain.
It also seemed to make sense that, to reinforce the new domain and its similarity to the company name, that the 'dot' should feature in the brand identity – to make the connection between the name and domain more implicit. 
We took some time to work up different versions of a wordmark for Seymour Associates, as well as a monogram device that could be used whenever there is not enough room for the full wordmark.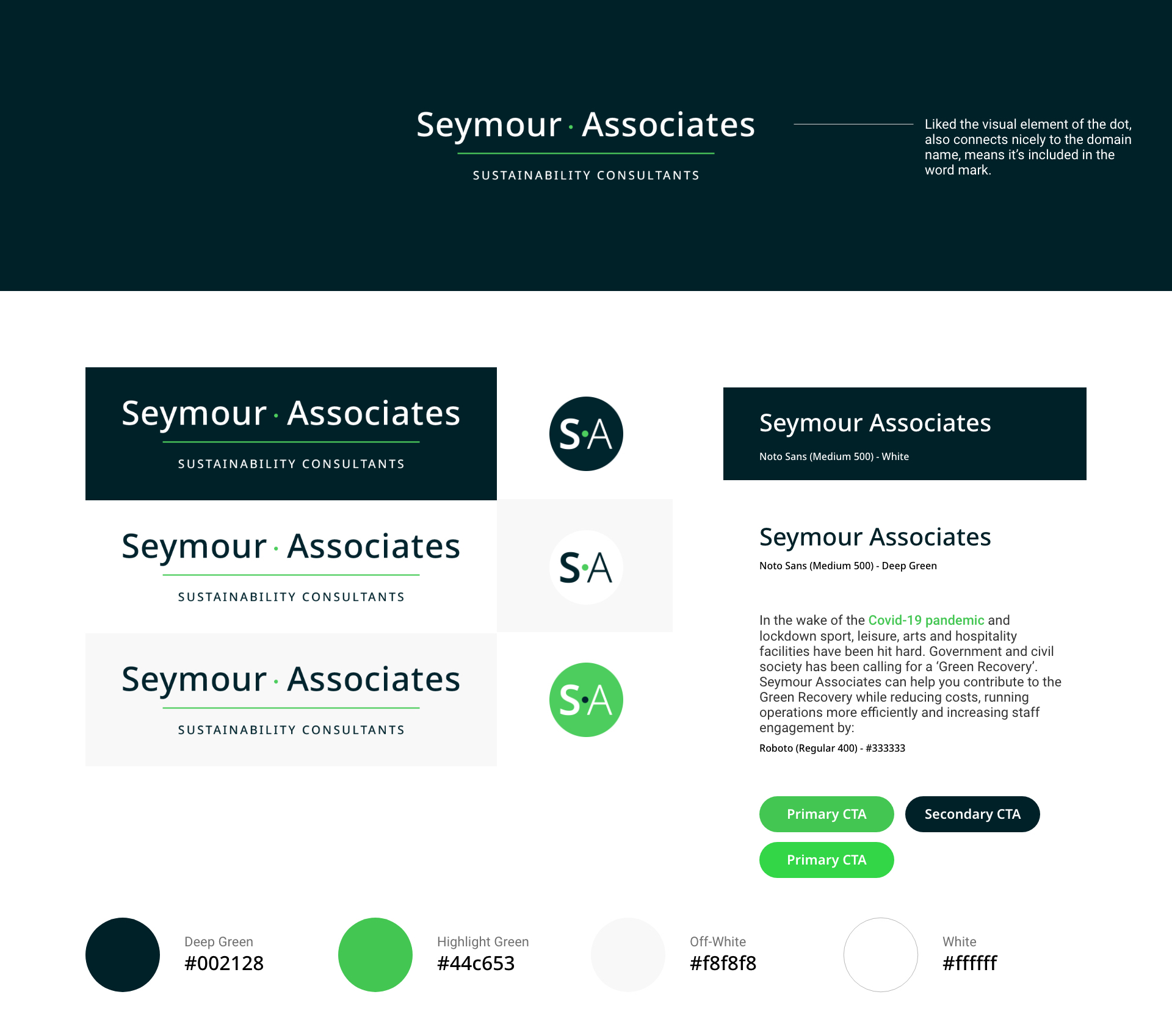 We also began work on complimentary parts of the brand identity, such as fonts and colours that supported the clean, modern but sustainable ideals that Seymour Associates embodies.
The first step in a website that is easy to use is sensible navigation. The arrangement of navigational items in a way that makes sense to the largest number of potential users – a process known as Information Architecture – makes for an intuitive navigational experience.
As such, we always lay out the pages that will form part of the core experience and ensure that there is no confusion, duplication or overlap.
It also helps to have a blueprint from which to start creating layouts.
We followed our typical user-centred design approach, beginning with wireframes and evolving into pixel-perfect designs. This gives our client a chance to review layouts and concepts at different stages of the process and offer input. We can also test different proposed solutions with end users.
We used our standard codebase built on WordPress and the fewest number of plugins possible to create a fully responsive website that could leverage dynamic content. However, something special was required for Seymour Associates. 
Ethical Pixels considered switching to 100% renewable hosting over a year before this project, but found it difficult to find an appropriate balance of speed, software and reliability. We do the best we can, but above all else we want to do the best for our clients. It remains on our list of priorities for 2021 and beyond.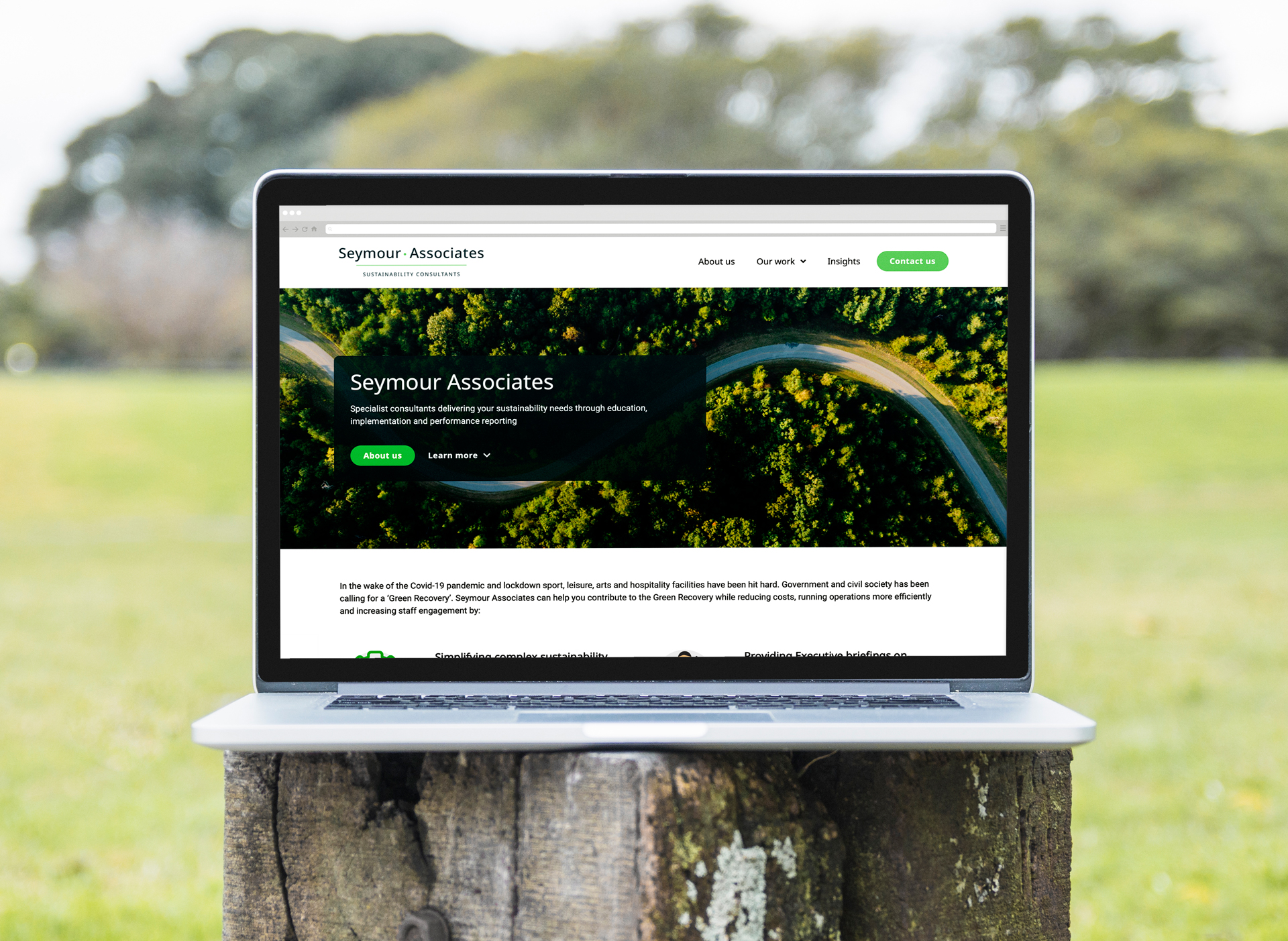 However, we realise that for clients like Seymour Associates, who live, breathe and preach sustainability, nothing less than eco hosting based on 100% sustainable energy sources would be appropriate. As such, we looked to the Green Web Foundation, a Dutch non-profit that uses the existing protocols of the internet to understand where infrastructure is run, and how it is powered. Their API and website makes it easy to see who is hosting using renewable energy.
We decided to partner with Kualo in order to bring Seymour Associates online using green hosting, and advertise that fact using the GWF's web interface.
"As a new consultancy, I needed something that was fresh and simple, and yet eye-catching that embraced the values of the business. Ethical Pixels was able to pull that together quickly and professionally. This was the first time I had needed to create a website and Ethical Pixels explained every stage clearly making the whole process very easy to understand. They even found us the green hosting option. I am very pleased with the result and would be very happy to recommend Ethical Pixels for design, branding and websites."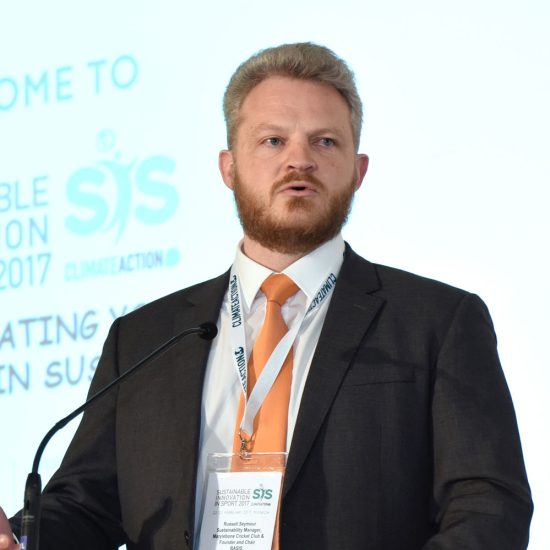 No fees were paid for the creation of the Seymour Associates website. As part of our ongoing commitment to support organisations that are working hard to benefit our community and the planet as a whole, we occasionally engage in discretionary pro bono work.