Following our recent rebrand to Ethical Pixels, we have renewed our focus on the implications of technology usage, especially with regard to sustainability. Website hosting is by far the largest part of our carbon footprint, and it's been on our radar for several years to try and reduce this.
We're happy to say that, as part of our commitment to ethical technology usage, we now offer all our clients the option to host their website(s) using 100% renewable energy – independently verified by the Green Web Foundation.
All new websites will automatically be built on this sustainable platform wherever possible. In the rare case where specific technical requirements mean we have to build and host on a different platform, we are actively choosing and supporting hosts who have plans or pledges in place to achieve 100% renewable status by 2025, at the latest.
We are currently working to migrate all our existing shared hosting clients to the new platform before the end of the first quarter of 2023, and will not charge anything for this service. All remaining hosting renewal dates and prices won't change.
What does this mean for my website?
If your site is hosted with us, our initiative means your business' carbon footprint will be reduced, and your website will be powered by 100% renewable energy. You'll also be able to display a badge on your site from the Green Web Foundation that independently verifies your website is 'green hosted'.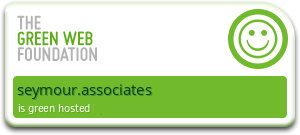 Seymour Associates was one of the first websites we built on Green Hosting. Now all our sites will have this option.
Don't have a green-hosted website?
Talk to us today. Not only can we get your existing site onto renewable hosting, but we can build brand new sites directly on this platform.