As a proud (formerly) Stourport-based business, we're always keen to get involved with other local businesses and regional endeavours – we're also members of the Worcestershire 1000!
#StourportHour is a hashtag on Twitter used for networking and news for community and business in Stourport-on-Severn. You can join in every Wednesday from 7-8pm. This had been going on for some time, but interest had waned over several months due to a lack of concerted attention.
Those familiar with the great success of #WorcestershireHour know how useful and valuable it can be to have a defined timeslot to get businesses, charities and individuals making meaningful connections. It works even better when people are putting effort into making it happen.
Stourport Hour is based primarily on Twitter as a primary presence but was in need of this attention as well as its own 'identity' to make it memorable, immediately identifiable and obvious that it belongs to the community and not to any single business or individual.
Ethical Pixels, along with another local business – The Impact Mentor – have put our time into the re-enlivening of this amazing online community.
We started with the town crest and other local 'logos' and decided to create a modern interpretation that was a spiritual cousin to its inspiration. It had to belong to this family but also signify how the hour has its own identity and communicate a little about how it works.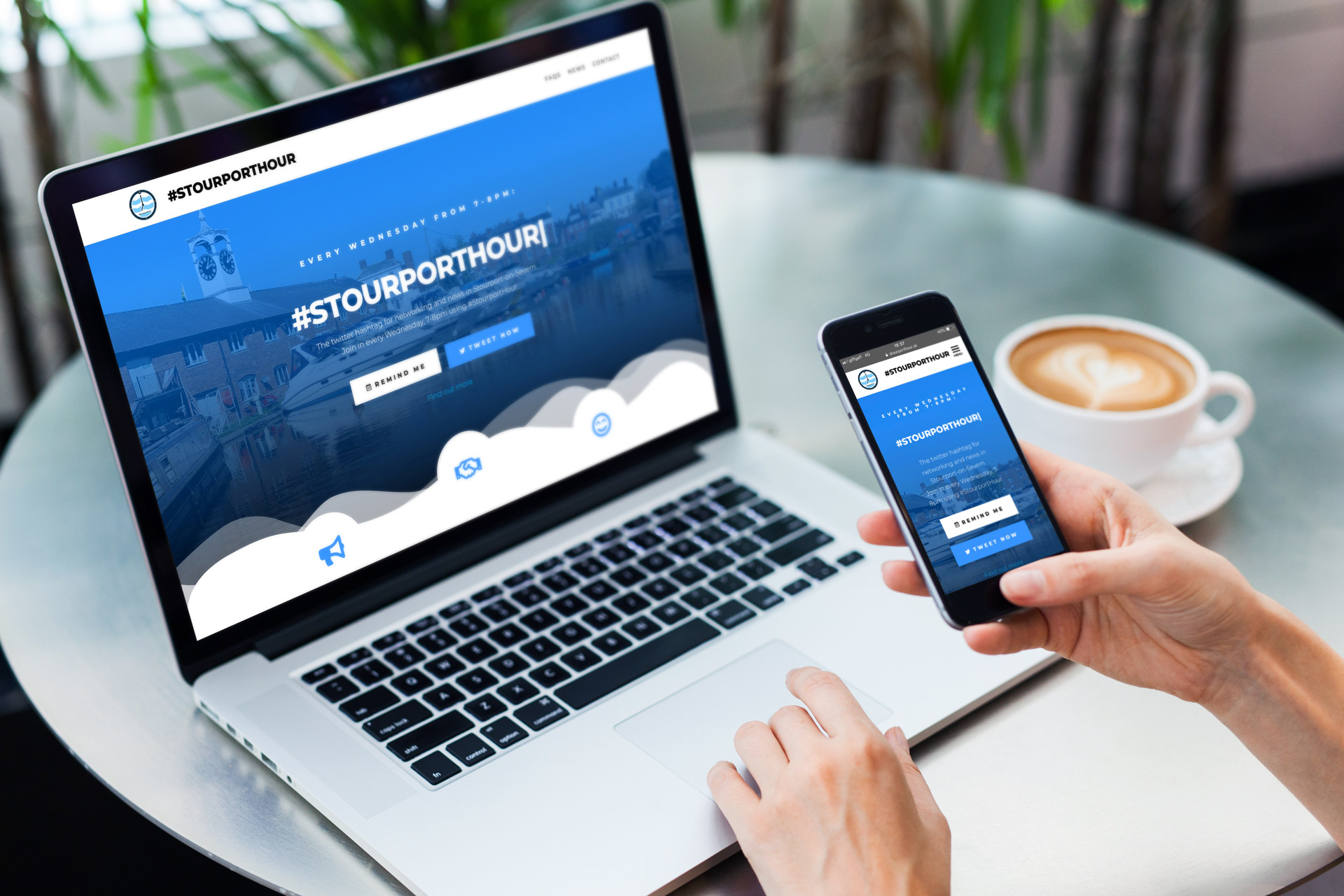 Then, we needed a website that explained everything in more detail and as a home for key additional information. Like most of our websites, we started off with sketches that illustrated the structure and design concept of the site, before we got to building. Sketching and rapid iteration allow much quicker, easier and cost-effective development of ideas.
This site was one of our exciting 'hackathon' creations, with the entire website, media and content created in a single working day.
This rapidly produced but modern and stylish site:
Is fully responsive and compliant with all devices
Loads fast
Explains the concept quickly
Features interactive elements – tweet the hashtag with one click or remind the user by adding to your calendar
Dynamically highlights other relevant hashtags
Pulls in a live Twitter feed using Twitter's API
Features a blog for news and more information
Is based on a leading CMS to allow extensibility and multiple users to maintain it
Need a new website for your business? Why not get in touch for a consultation, no obligation and no pressure.
Find out more about our web design services.
If you're interested in getting a website in a day, we can offer a hackathon website session to get you up and running in no time, Contact us for more information.