Ian from Vertis Accounting was one of the first contacts we made after Ethical Pixels started up, and it was useful to be able to chat back and forth about an area we had in common – Digital!
Based in a beautiful 18th century Grade II* listed building next to Worcester Cathedral, Vertis Accounting is a decidedly 21st century digital accounting practice. When it came to their online presence, Ian wanted to make sure that his website reflected the firm's forward-thinking approach.
Several aspects of digital strategy had to be considered. In our initial workshops, we discovered that:
Digital Accounting was to be the focus, and Xero is Vertis' platform of choice. As such, the benefits of digital accounting and the extensible nature of Xero had to feature prominently.
Although the overall approach might be the same, the audiences and their specific interests might differ wildly. So, we needed different areas that spoke their language and were relevant to these specifics.
The site had to perform for specific audiences, so getting the right audiences to the site and getting the right message across was key. In this vein, we were to work alongside two other preferred suppliers to deliver this vision.
We like to work inclusively, and are always game for collaboration when the lines of responsibility are clear. We set up regular touchpoints for the client and the other suppliers – the lovely Graham Baylis from Serendipity Online Marketing (who would be responsible for SEO) and the talented Catherine Every from Every Word (who would deliver the copywriting).
Our process allowed us to define the top-level Information Architecture of the site, using this as a structural guide and project tracker so all parties could see where their elements were at.
The next step was to wireframe the key page templates, and then (when the specific structural elements were agreed) start to layer the Vertis brand on top to create pixel-perfect designs. 
Ian didn't feel the previous site accurately reflected the Vertis brand, and was too conservative, opting for traditional cool blues and muted colours. We proposed a more eye-catching (and less traditional) orange that had been used in parts of the branding, and put this front and centre in an attempt to make the site stand out from the crowd.
As the designs came together, the content was being written to fit the templates we had designed, and then tweaked to maximise the SEO for keywords that were to be targeted. As ever, this process can be iterative, as the copy can naturally start to require new UI elements, and the SEO some technical considerations, such as schemas. 
Ultimately, along with the traditional brochureware features we tend to build into most websites, such as a blog, case studies, testimonials and contact options, we came up with some interesting additions designed to maximise the impact of the website for the audience.
Users can select the option that most accurately reflects their business stage, and then see information, services and options relevant to them, thereby maximising the chance of them converting.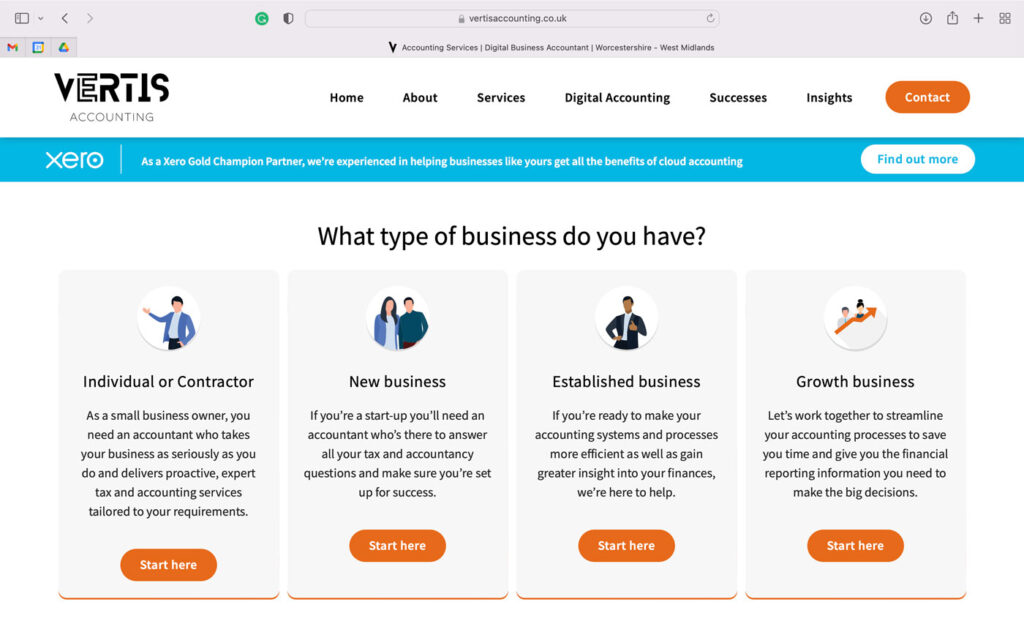 Digital accounting was a massive focus of this website, both getting users on board with the concept and exciting them about the future. Showcasing all the features and plugins of Xero was useful.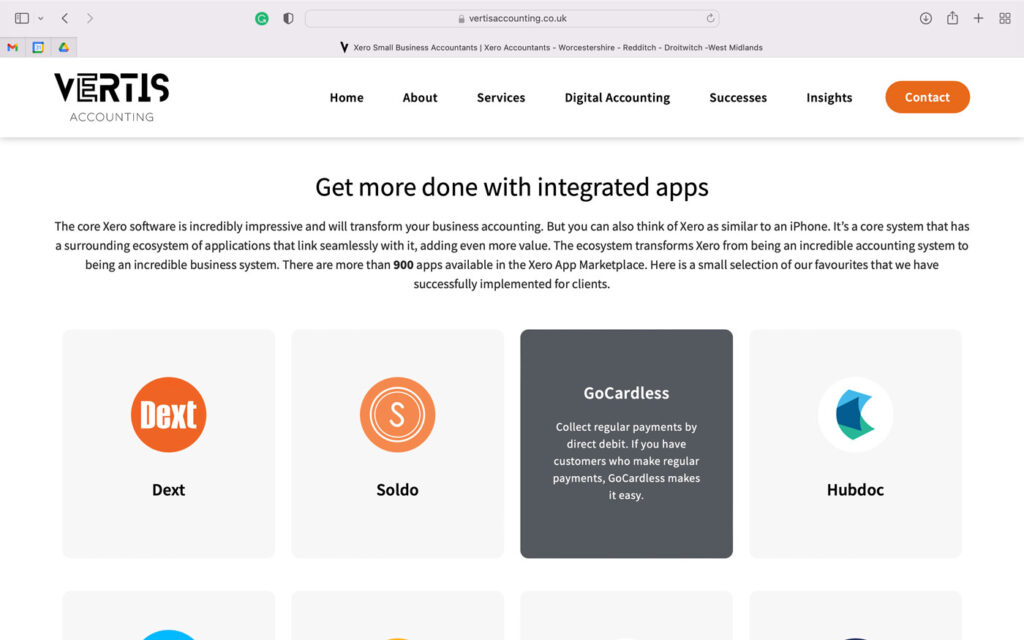 Simple websites can still create efficiencies. By having a reference page featuring bookmarks for all the online services Vertis provides gives a single, always correct point of reference for clients.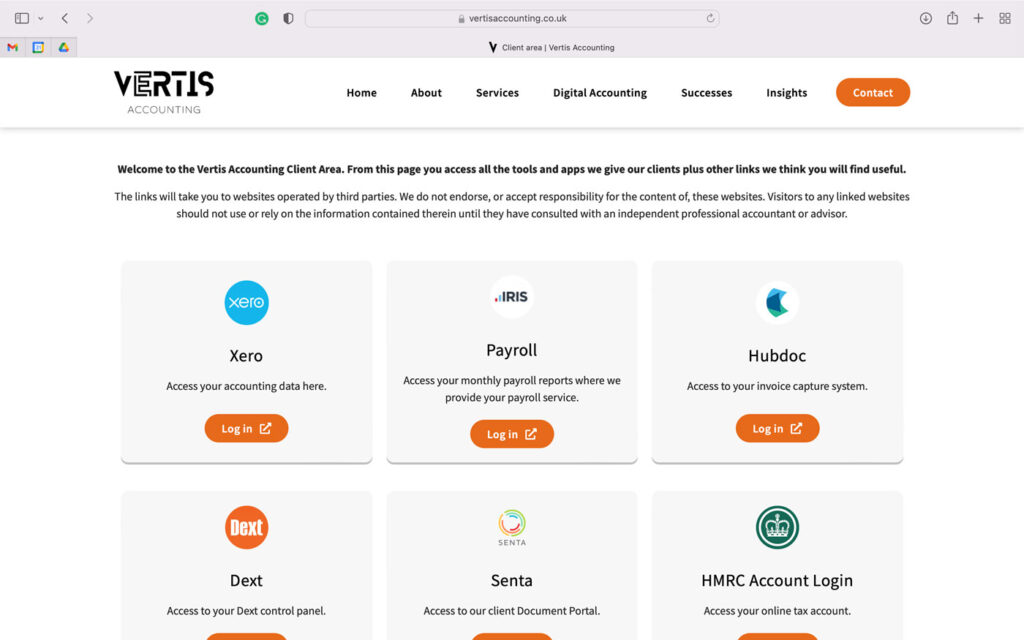 Getting access to your accountant can be tricky. By integrating a calendar-linked booking service to the site, both existing and prospective clients can get time with Ian directly.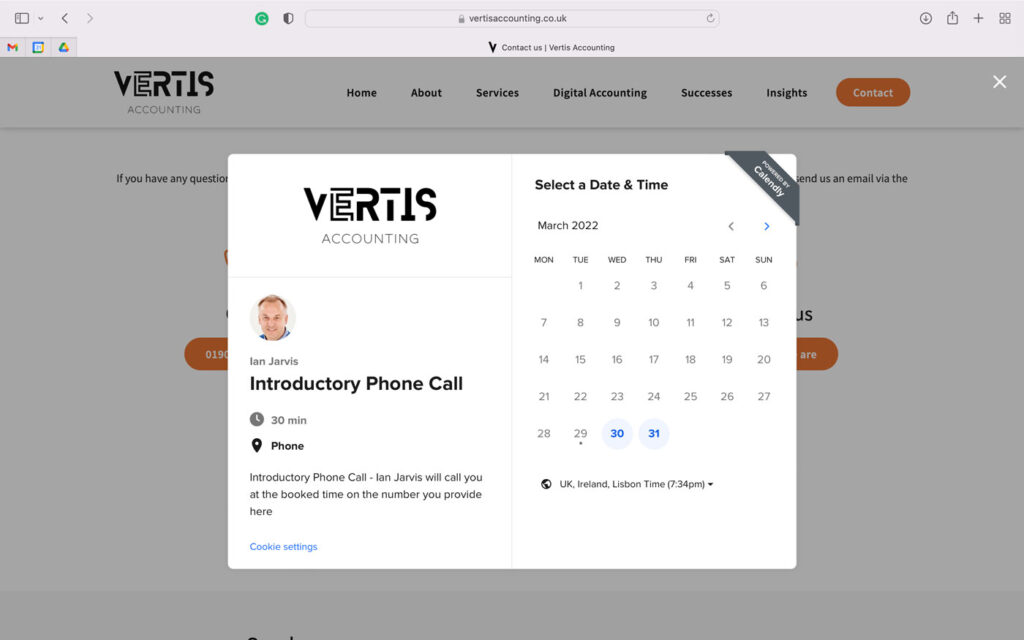 When the build was finalised and all parties were happy, we worked to reconfigure the client's domain to put the new site live, and to preserve and improve email deliverability with DNS configuration. We also later helped add an automated proposal platform to the site. 
We're not that knowledgeable about accounting, but we do know websites. A lot of focus on one sector can mean all the websites for companies in that sector start to look a lot alike – we don't think they have to! In fact, we like recommending ideas that cross-pollinate from other sectors in order to create a memorable and positive user experience.
Ultimately, the feedback we received from Vertis proved that this approach is valid:
"Brilliant. Ethical Pixels listened to what I - in very untechnical language - said I wanted and then used their skill and flair to produce a great-looking website. Quite rightly they told me when I was suggesting things that weren't recommended, explained why and offered an alternative solution. All in all a great service and I have no hesitation in recommending Ethical Pixels."