We asked people how the lack of a website might affect their perceptions of a company. The results speak for themselves.
At Ethical Pixels, we're really interested in the end user. One of the pillars of our digital agency service is Experience Design, and we're constantly talking about the benefits of User Experience to our clients and friends. If you keep your end user in mind all the time, the right customer should be able to find your business, enjoy using your website, and buy your products or services easily. If it's a great experience, they should even be motivated to come back again and rave about you to people they know.
Staying true to our user-centred approach, we asked a selection of people about their habits when searching for a business, and the impact that websites make on their perceptions. So, read on to hear what the people who might one day be your customers think.
Some of the insights are more predictable than others. For example, almost half of users (48.8%) reported starting their online search using a mobile, above any other type of device. This is representative of the global shift of common browsing to smartphones. However, some of our insights should make business owners sit up and take notice, especially if you haven't gotten round to getting your own website online yet.
The website is the focus
88.4% of people reported visiting a company's website as the first thing they would do after searching online. This goes to highlight the importance of having a web presence. In a world where we're used to getting quick answers to our questions, it would be easy enough for users to bypass your business if it didn't have a web presence.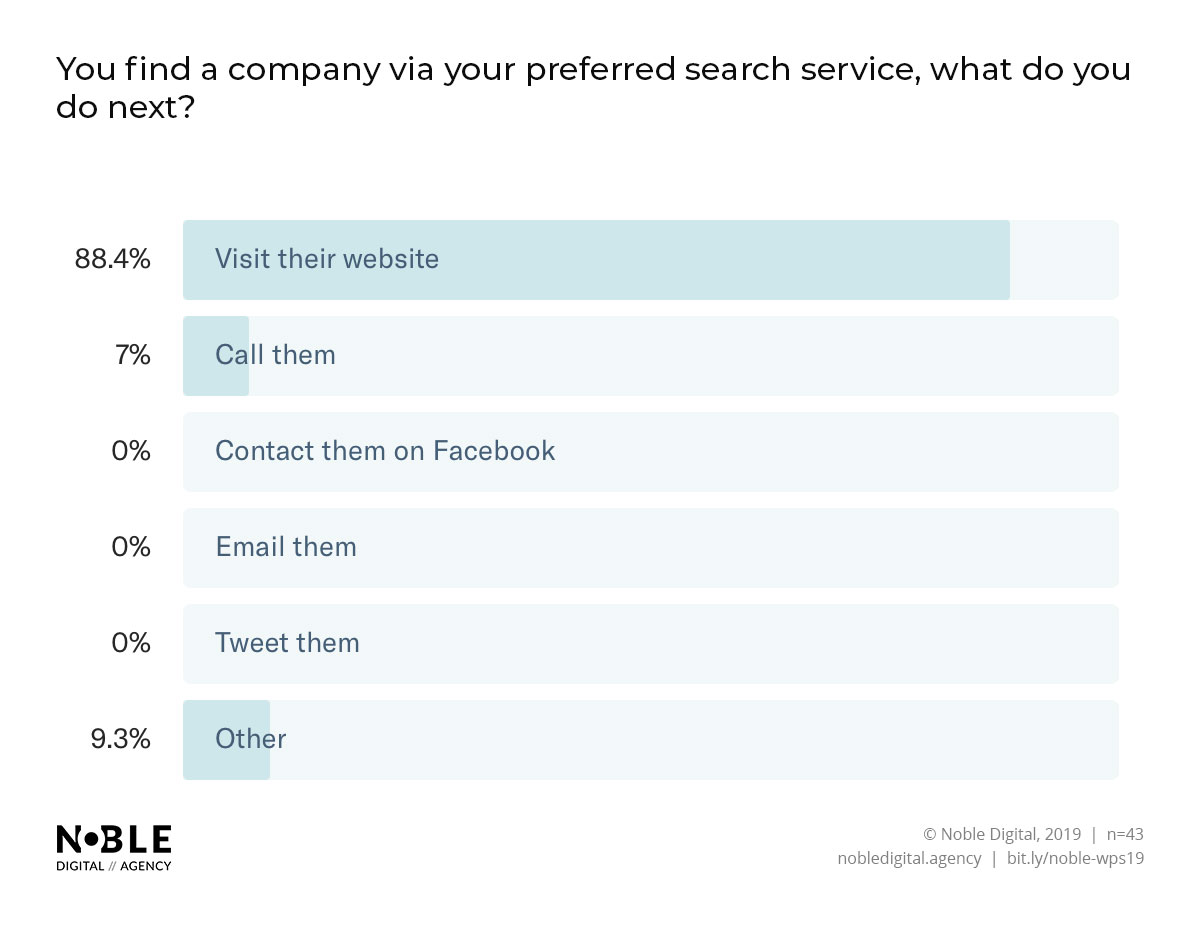 7% of respondents said they would call the business directly, and 9.3% suggested other actions, such as liking them on social media or physically visiting the business address.
Not having a website hurts your company image
A massive 88.4% of people suggested that if a business didn't have a website, it would negatively affect their perception of the company. This is to varying different degrees of severity, with the bulk of responses in-between the middle and extreme ends of negative impact, suggesting it may not the only factor at play, but it certainly is a significant one.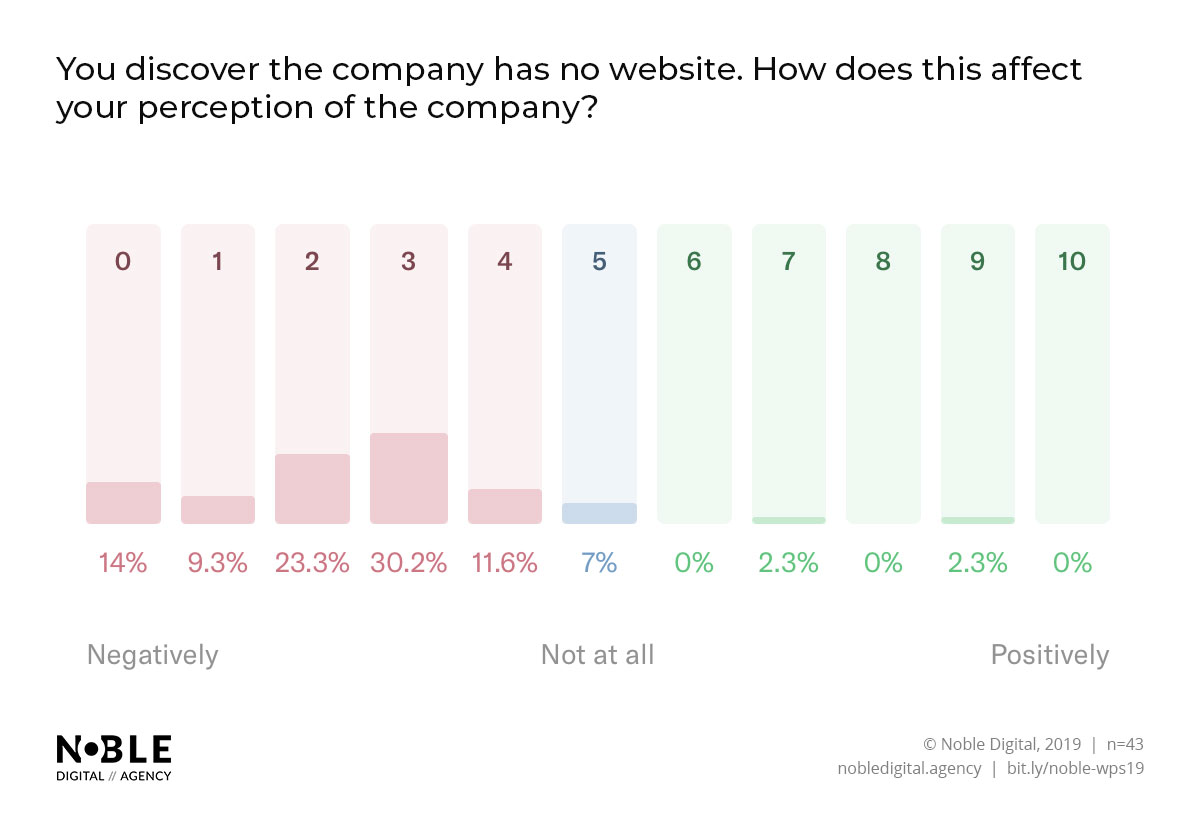 A similar number of respondents indicated that the lack of a website specifically made a company look less professional, and an even higher number – 90.8% of people indicated that the lack of a website made a company appear smaller.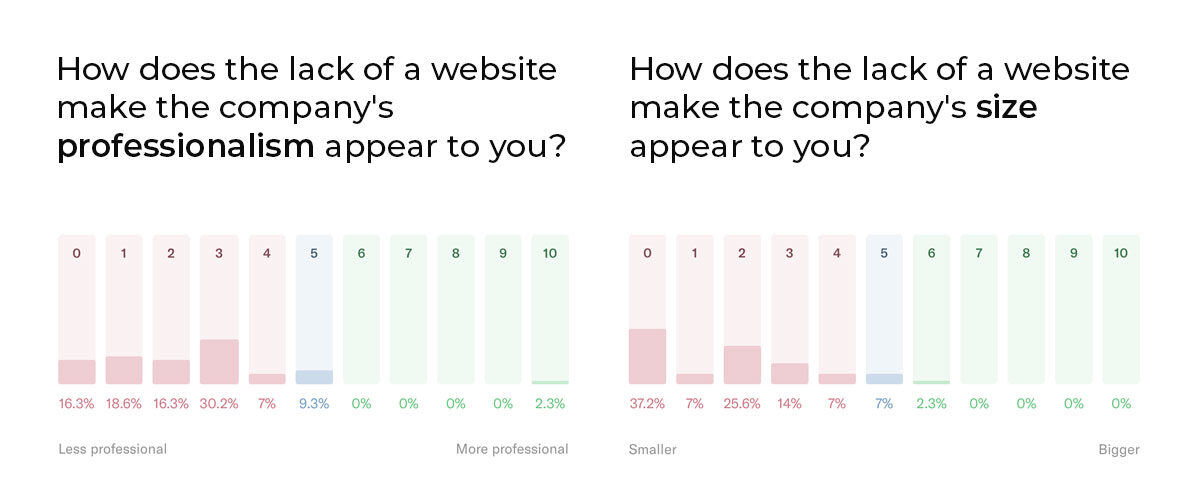 Reasons vary, the impact is the same
We had a feeling that the lack of website would have an impact, so we asked respondents to explain in their own words why they felt it changed their perceptions.

The reasons given were various and worded differently, but when sorted into similar groups, the most common reason given boiled down to users finding it too difficult to locate the information they needed to make a decision (38.1%), followed by a general lack of trust in companies that didn't invest in a website.
All is not lost, but more than a third might be
Despite all of this, 69.8% of respondents said they would still use the services of a company that didn't have a website, confirming that it isn't the only major influence.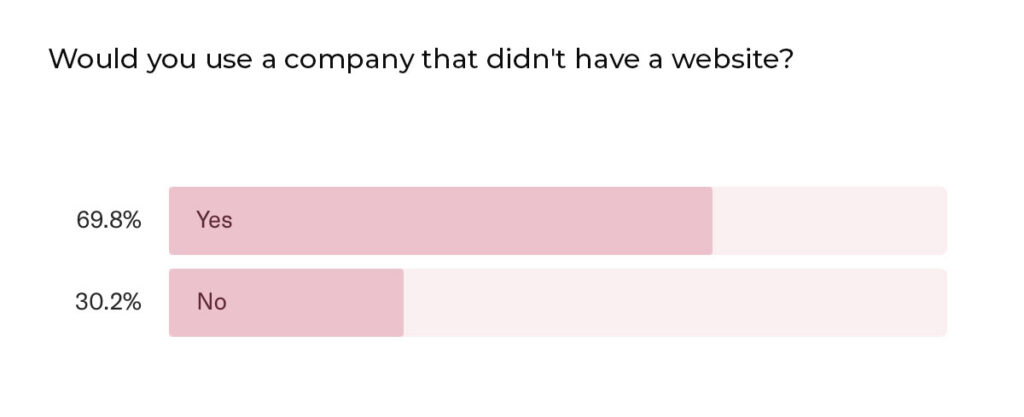 One respondent even identified that their perceptions might be unfair to the company, but didn't allude to any change in that perception:
However, it seems the damage might already be done by the time people decide they might still use your services. The bottom line is that you could be losing anywhere between 30-80% of your audience by not having a website, or having a website that underperforms.
So, if this has convinced you that your business needs a website (or perhaps your existing website needs to be easier to use) why not get in touch with us today and see how we can put our expertise to use for you. Find out more about our comprehensive web design service, or User Experience services.
We also run tailored studies and user research like this on behalf of our clients, to help them specifically find out more about their users. Ask us about it if you want more insight into your customer base.