Thankfully only a stone's throw from our Cross Street offices in Preston, NIKO is an oasis of amazing fine wine and delightful craft beer, imported from all over the world and featuring exclusive connections with wineries in the Balkans. When you throw in handmade sourdough pizza and charcuterie boards, there's something for everyone. 
We go in all the time to work, relax or even hold informal meetings. Owners Nikola and Gareth have put a lot of thought and effort into making NIKO a bar with high-end style and atmosphere. 
Where we come in of course is that we like to see businesses flourish both in the physical world and online. The standout first impression you get walking into NIKO and talking to the staff needed to be replicated online.

The previous iteration of buyniko.co.uk was admittedly acceptable, albeit beset with a few front-end difficulties that impacted users on certain devices. Also, the staff reported issues getting what they needed from the webflow e-commerce solution, as NIKO updates their product roster regularly and sensibly offers free local delivery within a certain radius, as well as collection options for locals.
The first thing we wanted to understand from the staff and owners at NIKO was, if they could do anything they wanted, what would they want out of their website? We hosted an Information Architecture (IA) session at the bar to discuss options with everyone from management to the bar and kitchen staff, capturing a wide range of feedback and different parts of the process.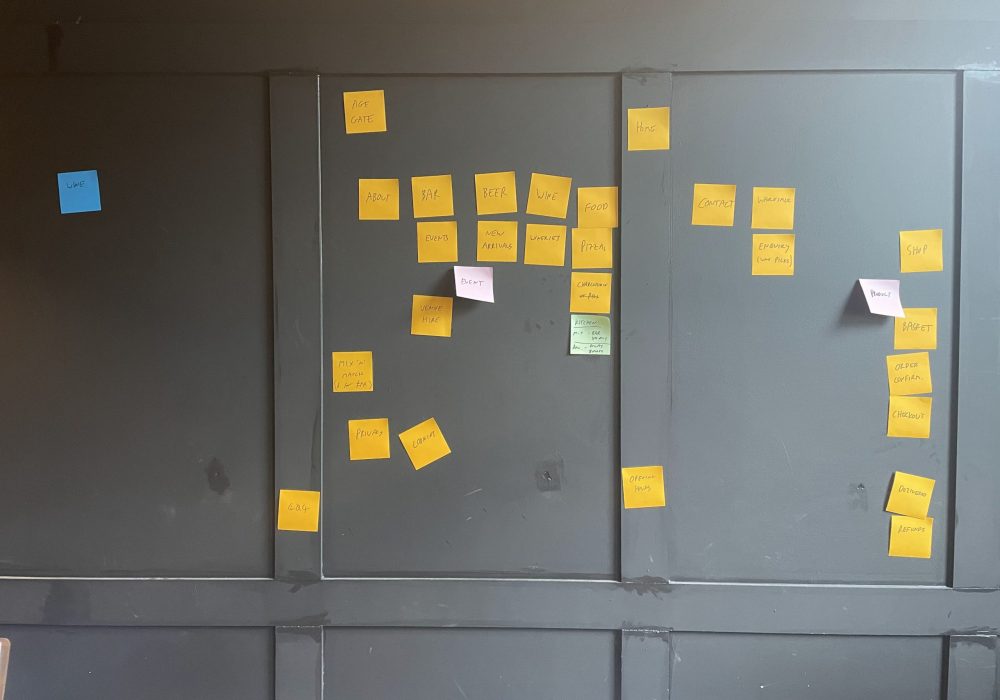 This enabled us to design a website that catered for two different audiences. One part would focus on the physical venue that people would visit and enjoy to discover new wine and beer at a house there an event. The other half would be a stylish take on the traditional e-commerce paradigm, showcasing the best information and facts about different wines and beers and allowing people to discover new options based on their preferences.
We followed our signature approach of first wireframing the key page templates identified in our initial session and building upon these to create a stylish, minimal but striking design that reflects the style of the venue.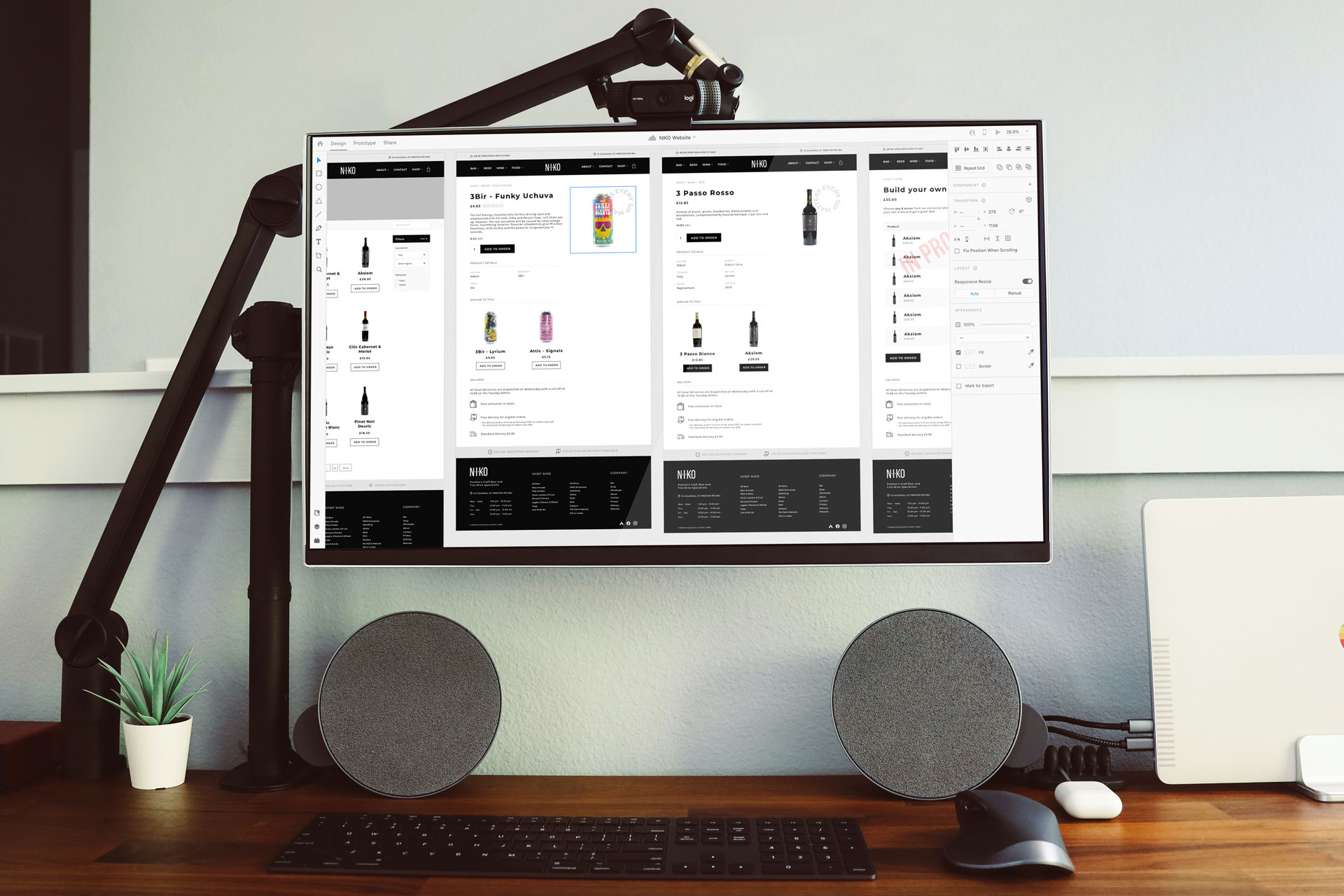 After an initial review, the guys at NIKO Preston were very happy and asked us to progress to building the site while they sourced the relevant copy, imagery and media. We also began the process of migrating the substantial product set into our preferred e-commerce solution, WooCommerce.
We're particularly proud of the following features and elements of the NIKO website: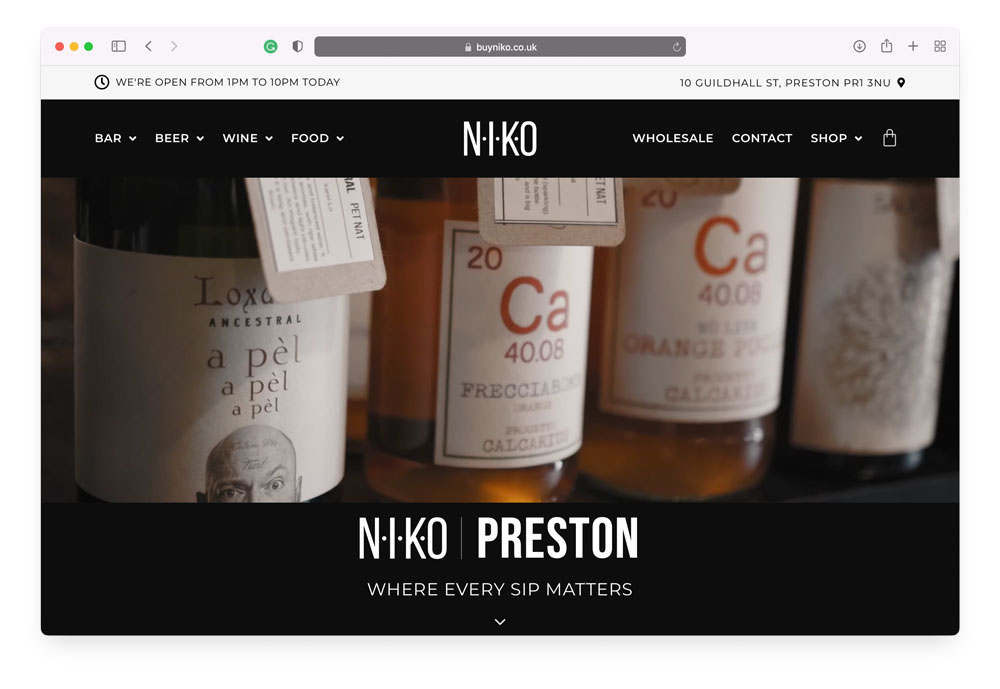 You only have about 7 seconds to communicate to users who you are and what you do, that's why we combined key information with a stylish video showcasing the best bits of NIKO on the homepage. Video is a great way to communicate lots of concepts or aspects of your business quickly.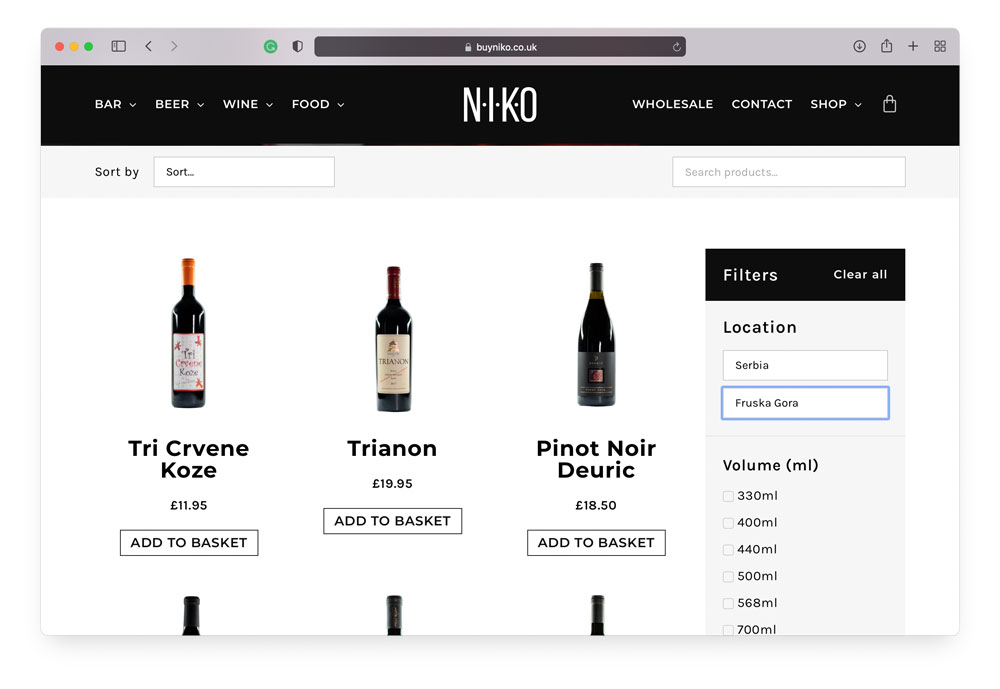 With so many products on offer, we wanted to give people the ability to filter products based on the product set they were looking at, but also by the many dimensions available. In this example, wines can be filtered by country and then by the regions nested within each to find specific varieties.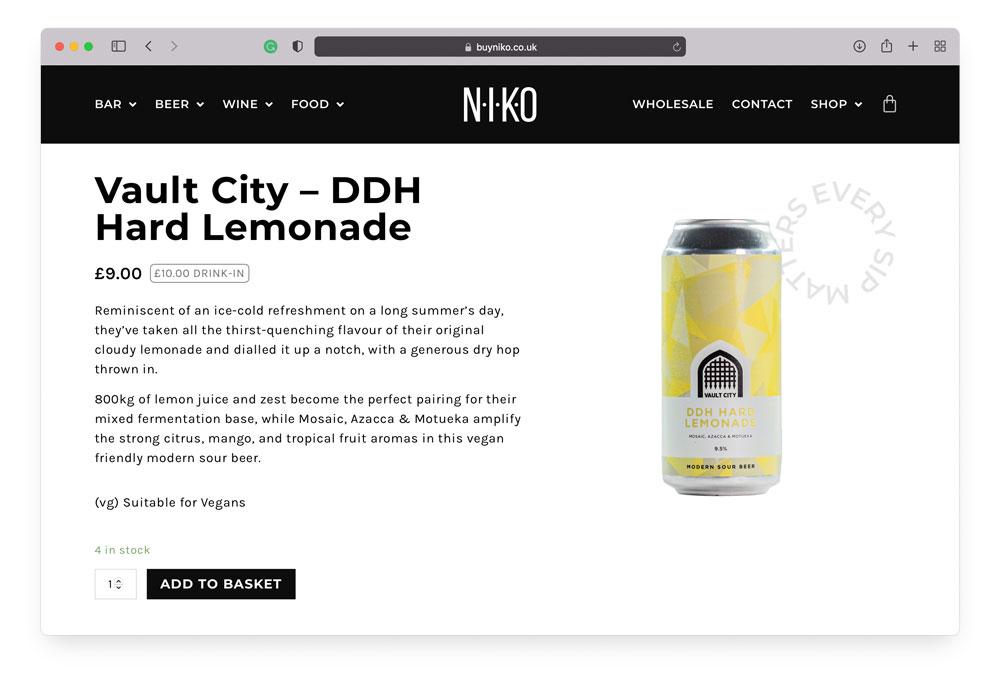 There are a lot of factors to consider when buying online, so we created a product page that showcases all the product information, including filterable attributes, similar items and delivery options while continuing to showcase the product image. We also automatically calculate the drink-in price for beer and cross-link wines with pages showcasing the wineries.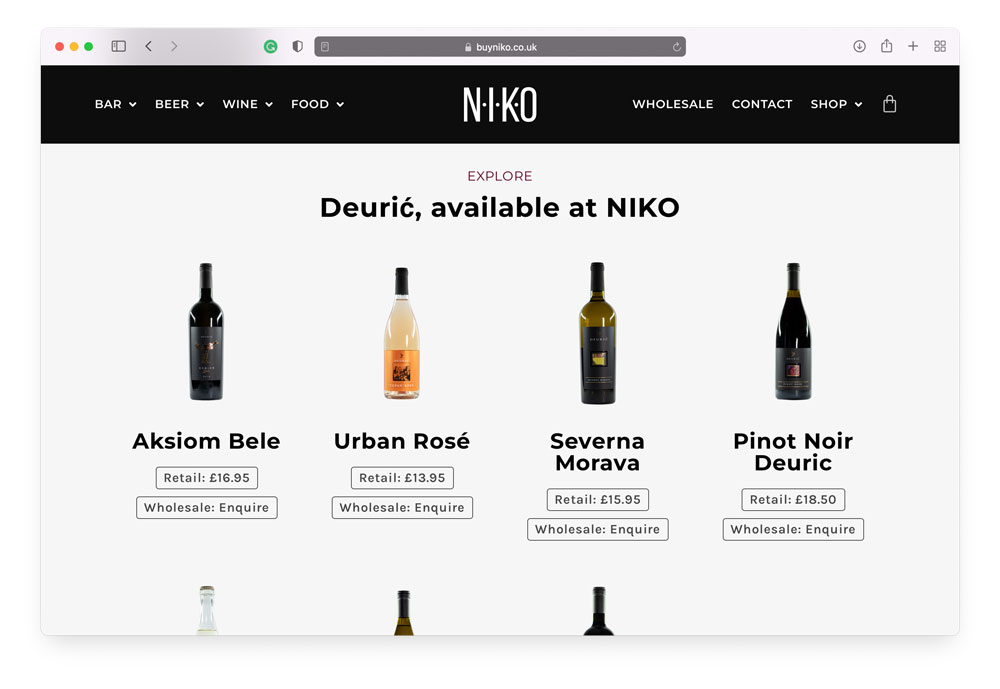 NIKO founder Nikola noticed there was a severe lack of wine from the Balkan area in the UK and sought to rectify that by forging partnerships with vineyards where traditional methods are championed and sustainability is at the heart of the production. NIKO exclusively imports these to the UK, so we make a big deal about it.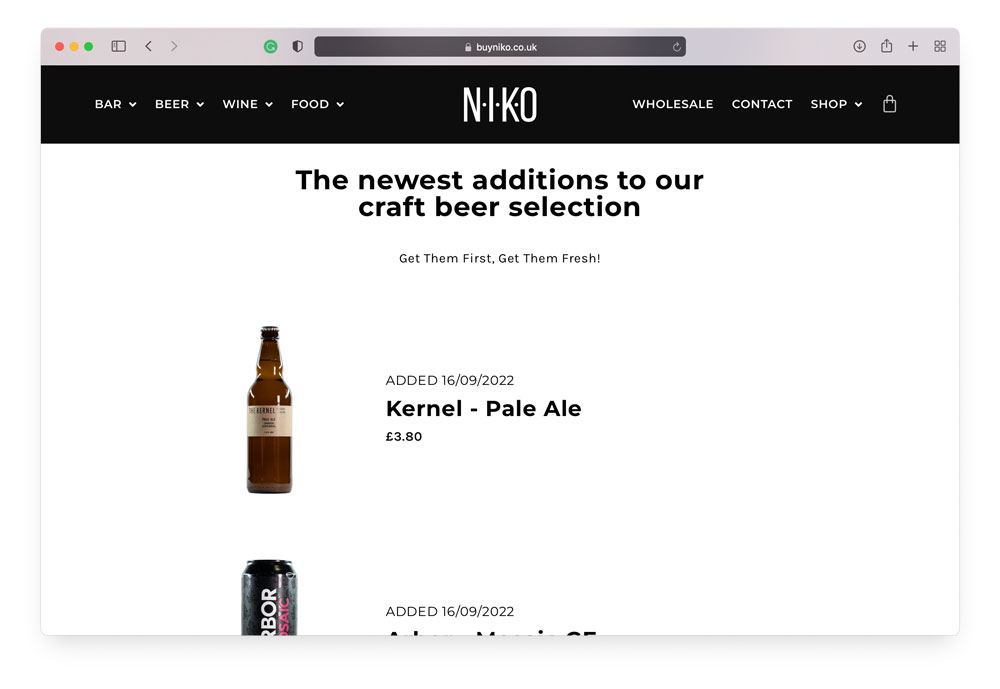 With beers from around the world imported (and being consumed) regularly, the beer menu changes all the time. Some customers like to know what the latest additions to the menu are, so this page always displays beers in order of most recently added and features in email marketing.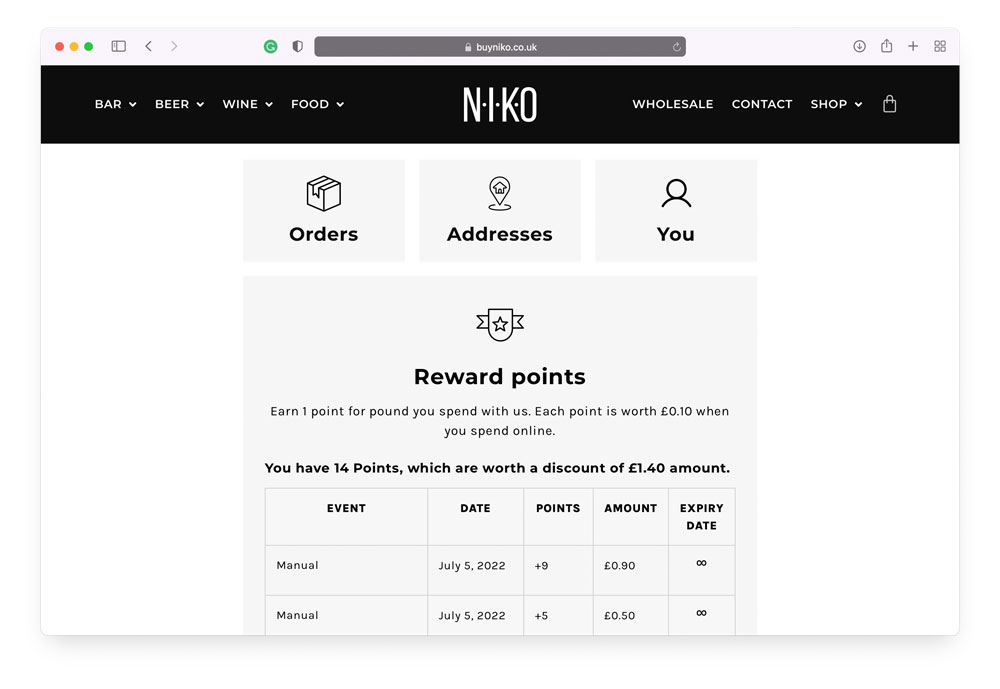 NIKO asked us to implement an online rewards system for those who buy online, with each purchase earning points that can be redeemed at checkout. Users can log in and keep track of their reward points.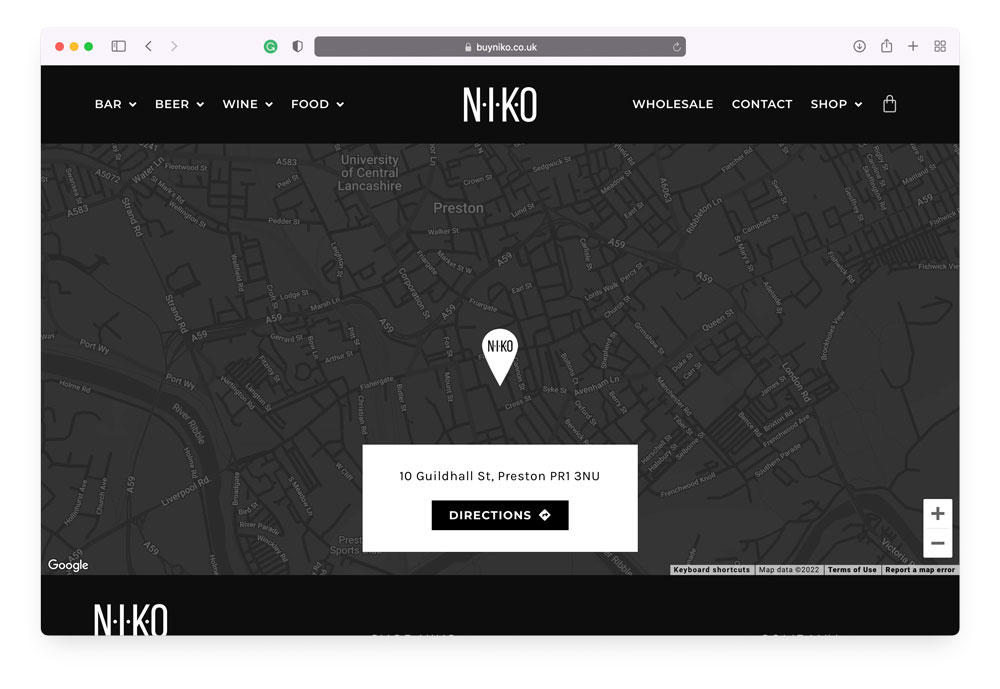 One of the most important things for venues is making it easy for people to find their way there. Our 'direction finder' detects which device you use and opens directions to NIKO in your preferred maps app, based on your current location.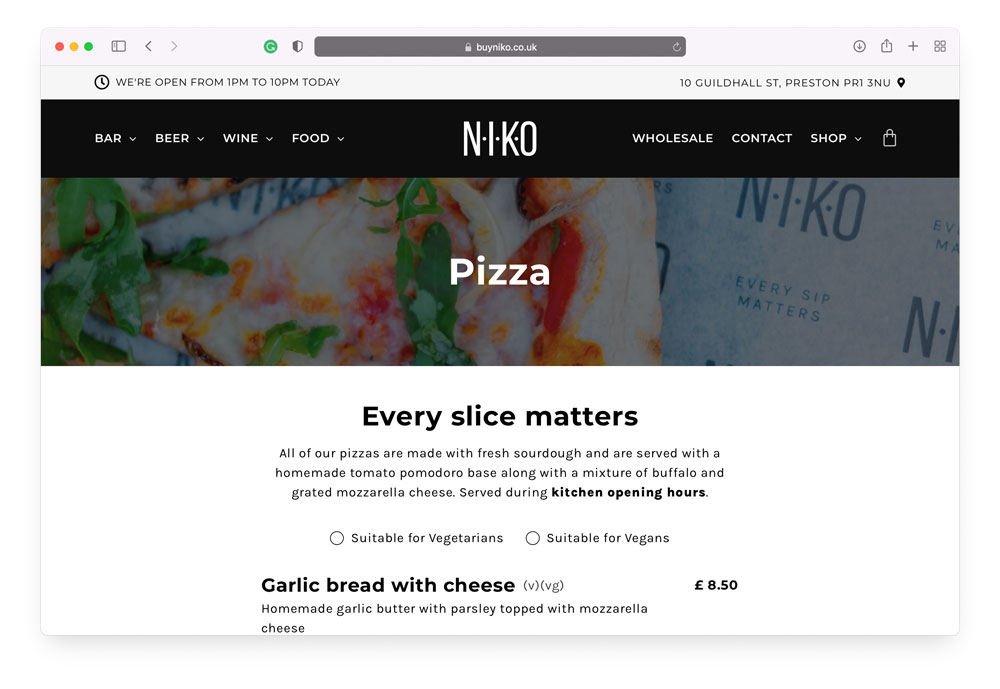 The food menu allows new pizzas or charcuterie items to be automatically added into the correct menu area, and then filtered by dietary requirement.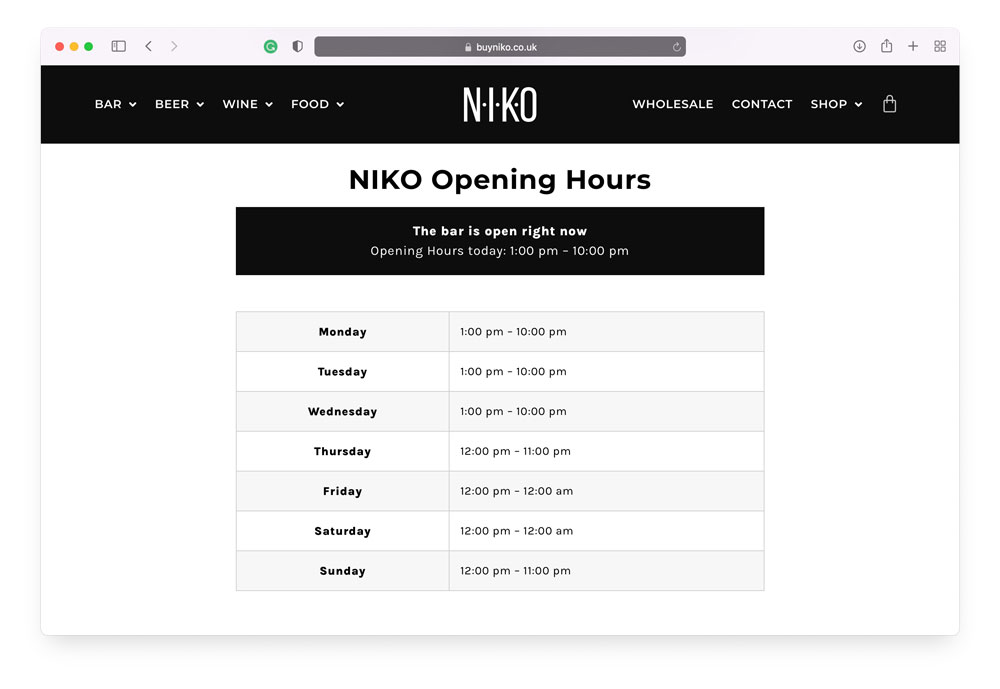 Different areas of the site automatically change their messaging based on the venue opening hours to make sure the content is always appropriate and relevant to the time of day.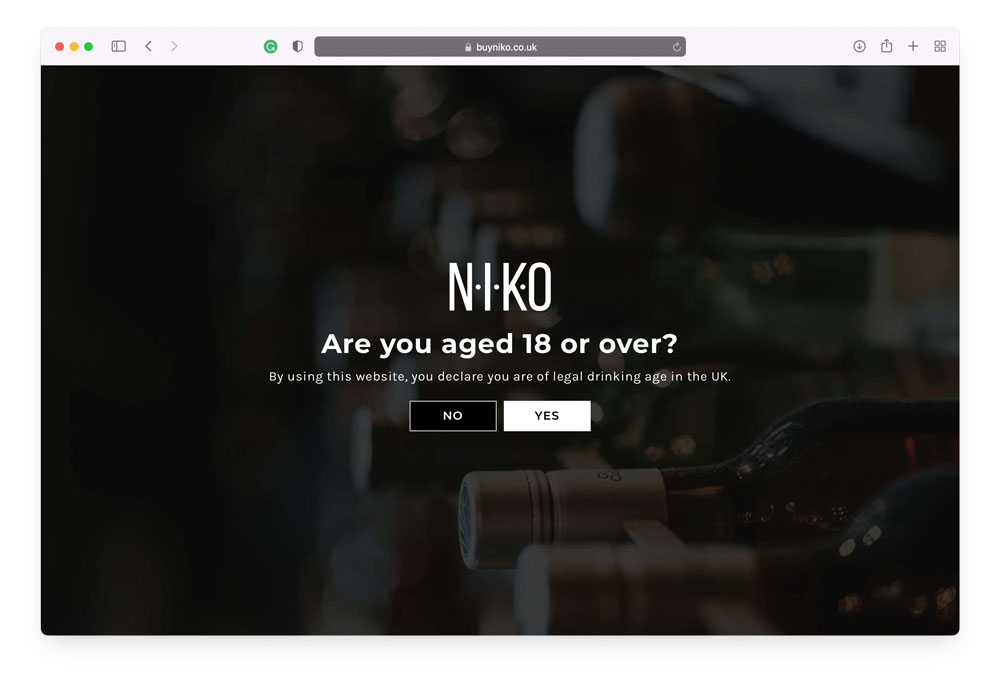 Although a legal requirement in the UK drinks industry, age restriction of alcohol-related content isn't always well observed. The site asks for age confirmation before access is allowed and remembers this for a year.
Ultimately, when our client loves how the site works and their customers take notice of it (enough to enquire who made it!) we know we've carried out a successful website design project.
"A pleasure to work with from start to finish. Brought great ideas to the table and brought our ideas to life for us. 5 star service and 5 star people."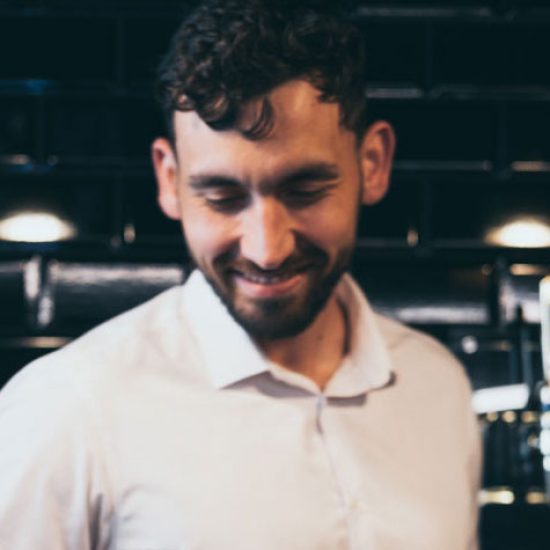 Check out the NIKO website today, and definitely take the time to visit if you find yourself in Preston City Centre. Even better, if you are in the market for a website and like what we've done here, why not meet us at NIKO for an informal discussion? We're buying 😉